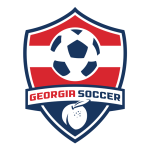 GEORGIA SOCCER ANNOUNCES INAUGRAL CLUBS IN INNOVATE TO GROW REFEREE RECRUITMENT AND DEVELOPMENT INITIATIVE
ATLANTA, GA – Georgia State Soccer Association (Georgia Soccer) is pleased to announce that forty (40) Georgia Soccer Member Clubs have been accepted to the Referee Recruitment and Development Initiative announced on August 6, 2022.
At the Semi-Annual General Meeting, August 6th Georgia Soccer Executive Director Laura Halfpenny announced Georgia Soccer was the recipient of a US Soccer Innovate to Grow grant of $276,148. This grant will subsidize a three-year referee recruitment, development and retention program that member Clubs & Leagues of Georgia Soccer will benefit from. Each year we will add five hundred (500) new referees who will be granted full subsidy; their certification, uniform and approved background check will be fully covered by this grant.
The initiative will be called Positively Soccer and tackle several key challenges our member Clubs and Leagues are facing to recruit, develop and retain referees. Along with the subsidy of five hundred (500) referees, member Clubs & Leagues enrolled in the initiative will be given support through a referee mentorship program offered by the State Referee Committee and Clubs & their Assignors will be given tools to develop a Club wide referee program to continue to develop young referees.
"The Innovate to Grow Grant is a game changer for Georgia Soccer. The decline in referees is a nationwide problem and we at Georgia Soccer now have a solution. We all know too well the challenge of recruiting & retaining referees. Now, Clubs, Coaches, Parents, Players and Referees will all be part of creating a positive environment where we can all thrive. I applaud the 40 clubs that have enrolled and are part of this program." Laura Halfpenny, Executive Director at Georgia Soccer.
The following Georgia Soccer member clubs have committed to being part of Positively Soccer Referee Program for 22-23;
Alliance Soccer Club
All-In Futbol Club
Alpharetta Soccer Club
Athens United
Atlanta Fire United Soccer Association
Attack Youth Soccer Club
Bluesprings Youth Soccer Association
Cherokee Impact
Collins Hill Soccer Club
Columbus Youth Soccer Club
Decatur YMCA
Fayette County YSL
Fugees Soccer Club
Georgia Express FC
Georgia Storm
Georgia Storm – Madison (MAYSA)
Inter Atlanta FC
Lanier Soccer Association
Legion Futbol Club/Central GA Soccer Association
Macon Soccer Club
MAYS Metro Atlanta YMCA Soccer
Oconee Futbol Club
Old Capital Soccer League
Ordaz Soccer Academy
Peachtree City Youth Soccer Association
Piedmont Soccer Academy
Pike Soccer, Inc.
Rapids FC
Richmond Hill Soccer Club
Rockdale Youth Soccer Association (RYSA)
Roswell Soccer Club
Rush Union Soccer
Savannah United
Soccer in the Streets
Southern Soccer Academy
Steamers FC / Georgia Fútbol Club
Three Rivers Athletic Club (TRAC)
Tucker Youth Soccer Association (TYSA)
UFA South Georgia
Zico10 Soccer School